In a quest to streamline the manufacturing process of its premium pneumatic dry bulk tankers, Convair Engineering turned to Lucidity Australia to supply a range of wiring harnesses and lighting components that are reliable, durable and easy to install.
Founded in 1993, Convair Engineering specialises in the design, manufacture and supply of premium pneumatic dry bulk tankers for the road transport industry. The company also constructs ISOtainers and onsite storage tankers from steel and aluminium for the food, chemical, construction materials and oil and gas industries.
Convair originally made contact with Lucidity Australia in 2008 when it was seeking a supplier to partner with applying lean manufacturing processes to the lighting systems on its trailers.
According to Peter Swann, General Manager of Convair Engineering, the team at Lucidity was happy to find out what he wanted and work with him to develop the products that suited his specific requirements.
"Lucidity took the time to understand the unique working environment of our equipment," Peter says. "Like many parts of the transport industry, we are a niche sector with certain environmental elements that need to be understood."
To continue on this article please follow the below link: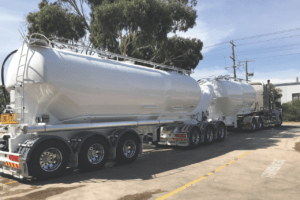 https://lucidityaustralia.com.au/wp-content/uploads/2022/06/Lucidity.png
788
940
Lucidity
https://lucidityaustralia.com.au/wp-content/uploads/2019/05/Lucidity-Logo-Work-Lamp.png
Lucidity
2022-06-16 23:10:12
2022-06-17 01:26:15
Lighting the load